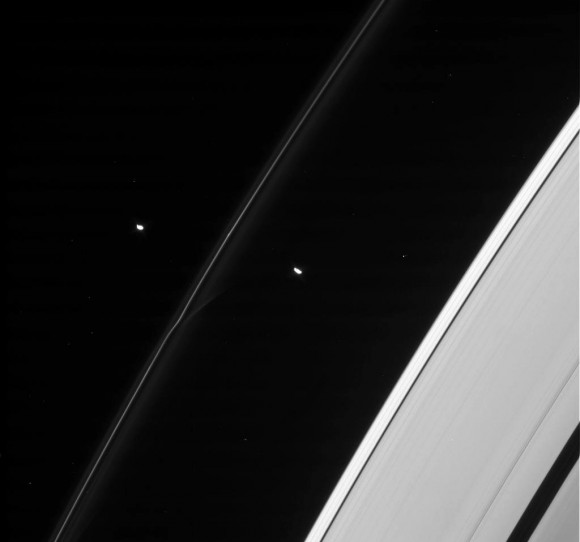 Raw Cassini image acquired on Dec. 18, 2012 (NASA/JPL/SSI)
Two of Saturn's shepherd moons face off across the icy strand of the F ring in this image, acquired by the Cassini spacecraft on December 18, 2012.
In the left corner is Pandora, external shepherd of the ropy ring, and in the right is Prometheus, whose gravity is responsible for the subtle tug on the wispy ring material. (Please don't blame the moon for any recent unsatisfying sci-fi films of the same name. There's no relation, we promise.)
Similar in size (Pandora is 110 x 88 x 62 km, Prometheus 148 x 100 x 68 km) both moons are porous, icy, potato-shaped bodies covered in craters — although Prometheus' surface is somewhat smoother in appearance than Pandora's, perhaps due to the gradual buildup of infalling material from the F ring.
Check out some much closer images of these two moons below, acquired during earlier flybys:
(...)
Read the rest of Shepherd Moon Face-Off! (110 words)
---
© Jason Major for Universe Today, 2012. | Permalink | No comment |
Post tags: Cassini, moons, Pandora, Prometheus, Saturn

Feed enhanced by Better Feed from Ozh